PLANE
The best way to come to Prague's Rainbow Guest House from the Airport is to use the shuttle service. They are white mini-buses and they have written on them the name, CEDAZ, and the cost is: 480 CZK for one person or up to four persons [about €18]. They are located just as you walk out of the arrival terminal. Give them the address: BULHARSKA 4 and they will take you directly there. You will need Czech money which may be obtainable from either ATM machines or the money exchange offices in the Prague airport.
TRAIN
Your train will arrive either to Hlavni Nadrazi (The Main station) or Nadrazi Holesovice both of these stations are on the same Metro line. If you exchange money in the station you can buy a 20 CZK ticket from a transit machine or Trafika [newspaper stand]. Take the Metro in the direction of HAJE getting out at the I.P. Pavlova Metro station. And as you come up the escalator to the lobby take the first stairway/escalator on the right to the street level. There you will see the tram stop for #4, 22 & 23. Take anyone of them in the direction of a large Gothic church. You go only four stops and getting out at the stop/Ruska. Then walk across the street and come along Kodanska three blocks turn left into Finska and Bulharska, which runs parallel to Kodanska begins there. The address is BULHARSKA 4.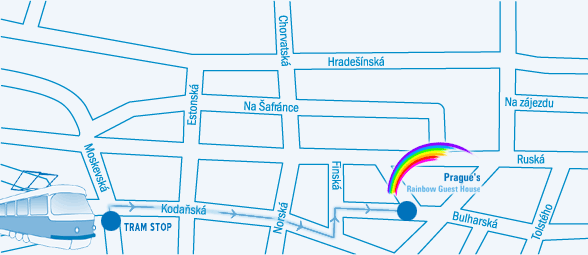 AUTOMOBILE
Nearby is located a secured parking facility where you can park your car during your stay in Prague. The daily 24 hour fee is 130 CZK [about €5]. But the public transportation systen is excellent and inexpensive and offers 24 hour a day service.
TAXI
We are reluctant to recommend taking a taxi because Prague is known for taxicabs drivers severely overcharging tourists. So be warned!!! If you must take a taxi ask someone to call one of the following:

AAA TAXI - Tel: 14014
PROFI TAXI - Tel: 844 800 700

ALWAYS ASK FOR A RECEIPT (PARAGON).
FAIR PLACE TAXI STANDS
TAXI FAIR PLACE are taxi stands with operators who guarantee fair charges (a maximum charge of 28 CZK/km), integrity and professionalism from taxi drivers, a high level of services and passenger protection against unfair taxi drivers. Check out the interactive map below and never get ripped off by an unfair taxi driver.